NALS Apartment Homes has always hosted resident events throughout their communities, encouraging residents to emerge from their homes and to create a sense of neighborly comradery. Unfortunately, due to the current situation, all resident events came to a screeching halt. NALS Apartment Homes still wants to enrich the quality of life in their communities and diligently worked to create events for residents that followed CDC's guidelines.
NALS communities nationwide shared a handful of clever virtual and safe social distancing resident events that their residents participated in:
San Tropez Apartment Homes in Scottsdale, Arizona does a tremendous job when it comes to having consistent resident events every week, while practicing social distancing. Their Cares Team goes above and beyond, such as leaving little gifts for the residents that have been at San Tropez for many years. "Terri Hoffman has been a resident at San Tropez for 25 years! We, with the office wanted to celebrate that and Terri! We got her a cake, flowers, and a card! We knocked and left them at her door" shares the San Tropez Cares Team.
They have also coordinated events to support local business like, "Guess How Many," where residents guess how many items are in the jar using Facebook comments on the post as entries. Whoever guesses the closest number wins a gift card to their favorite local restaurant.
PET-FRIENDLY
For fellow furry-residents, The Park at Mill Plain set up a chalk board outside with complimentary treats and waste bags. Resident's pets also displayed their 'model' skills and participated in a social media photo contest, showcasing how adorable they are. The one picture with the most likes, won a gift card to their favorite local pet store.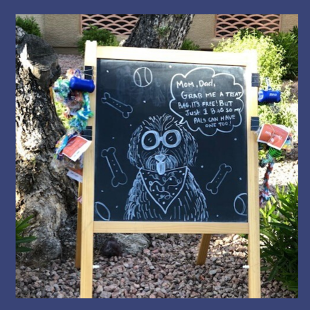 Additionally, residents played six games indoors. Employees at NALS Apartment Homes took part in these games with their own pets, take a look by clicking the video below.
FOOD TRUCKS
Many communities have also hosted Food Trucks at their properties. This provided a great way for residents to try a variety of dishes and still practice social distancing. Sage Stone Apartments hosted a Taco Food Truck. Participants ordered on their phone and received a text notification when the food was ready to be picked up.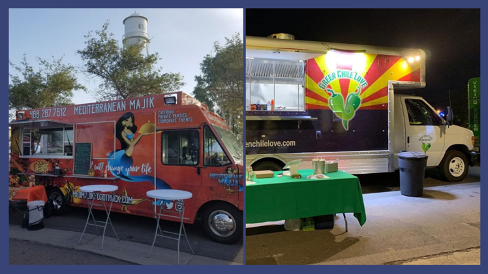 While many enjoyed food trucks, other teams around the country delivered food to their residents door to door. The Arbors at Breckinridge in Duluth, Georgia passed out Chick-Fil-A biscuits. The Remington in Killeen, Texas showed their appreciation to long term residents by passing out gift baskets that consisted of small snacks, a coffee mug and biscuits.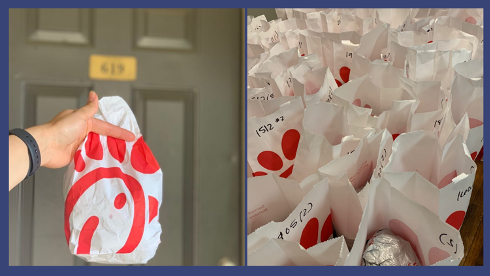 AROUND THE COMMUNITY
The Overlook at Interquest in Colorado Springs, Colorado tapped into their creative side when it came to planning their socially distant events. They hosted a property-wide scavenger hunt, providing participating residents with clues to find rocks painted with The Overlook's logo. This offered a fun way for residents to enjoy nature while following CDC's guidelines.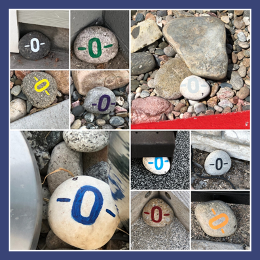 Similarly, Towne Square Apartments in Chandler, Arizona hosted an event encouraging residents' creativity. Each apartment home had the option to decorate their front doors with a seasonal wreath. Afterwards, they took photos of each door and asked fellow residents to vote on which one was their favorite by using their Facebook Page. The winner of the gorgeous wreath was awarded a gift card to the nearest grocery store.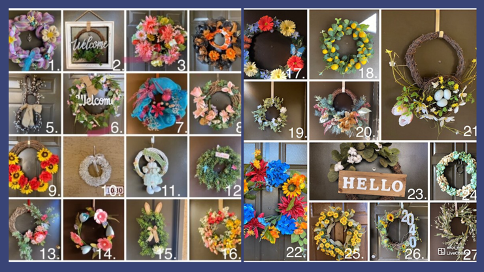 #NALSatHomes Campaign
NALS Apartment Homes launched a social media campaign, "NALS at Home", encouraging employees to share how they are staying busy and getting creative while shelter-in-place orders are in effect. Their activities and projects consisted of redecorating, spending time with family and pets, knitting, baking, and even building a mini donation library. Their team would love to hear from residents too! Residents are free to use the hashtag #NALSatHome and tag @NALSApartmentHomes on Facebook or Instagram with their own DIY projects or activities.