Santa Barbara, CA – Looking for a new apartment is not always an easy process, but with NALS Apartment Homes the experience of finding a new apartment for you and your furry roommates is effortless. This week is National Pet Week and NALS is celebrating their amazing pet-friendly policy across the nation!
Take a look at the video to see all the happy fur babies in-action across the nation:
Renting with a pet can have its challenges no matter where you live but finding the right community can be incredibly rewarding. We know your four-footed companions are the happiest right by your side and although NALS adheres to certain policies and breed restrictions, residents can rest assured their pets are always welcome. NALS is proud to share top-notch pet-friendly amenities throughout the country.
Having enough space for fur-children is one of the most sought-after amenities in homes. Most pet owners wish they had a yard for Fido to run around and expel their energy or a large patio for their cat to sunbathe. NALS properties offer bark parks and pet runs that allow residents to play freely with their dog, meet other pet owners and let their pets socialize. NALS communities feature amenities that replicate the dog park experience while providing pet owners with the added benefit of a weather protected area.
Most recently, NALS communities have been modernizing the way people think about apartment patios. Rancho Carrera Apartments located in Santa Fe, NM provides extremely spacious, enclosed pet-friendly balconies for their residents. This makes it easy for their furry companions to enjoy the outdoors and provides ease of mind that their pets are completely protected.
At The Overlook at Interquest (Colorado Springs, CO), Echo Apartments (Dallas, TX), Aliso Briar Forest Apartments (Houston, TX), Ironhorse Apartments (Longmont, CO), and City View Vinings (Atlanta, GA) residents enjoy the luxury of bathing their pets right at home with convenient pet washing stations and spas. This desirable amenity can be helpful for the on-the-go pet owner or in times of extreme weather, keeping their apartment home sparkling and fresh!
NALS recognizes that animals develop connections and help build a stronger sense of community. They are pleased with the difference their efforts are making and encourage you to share your pet pictures with them by using the hashtag #NALSpets. Happy #NationalPetWeek!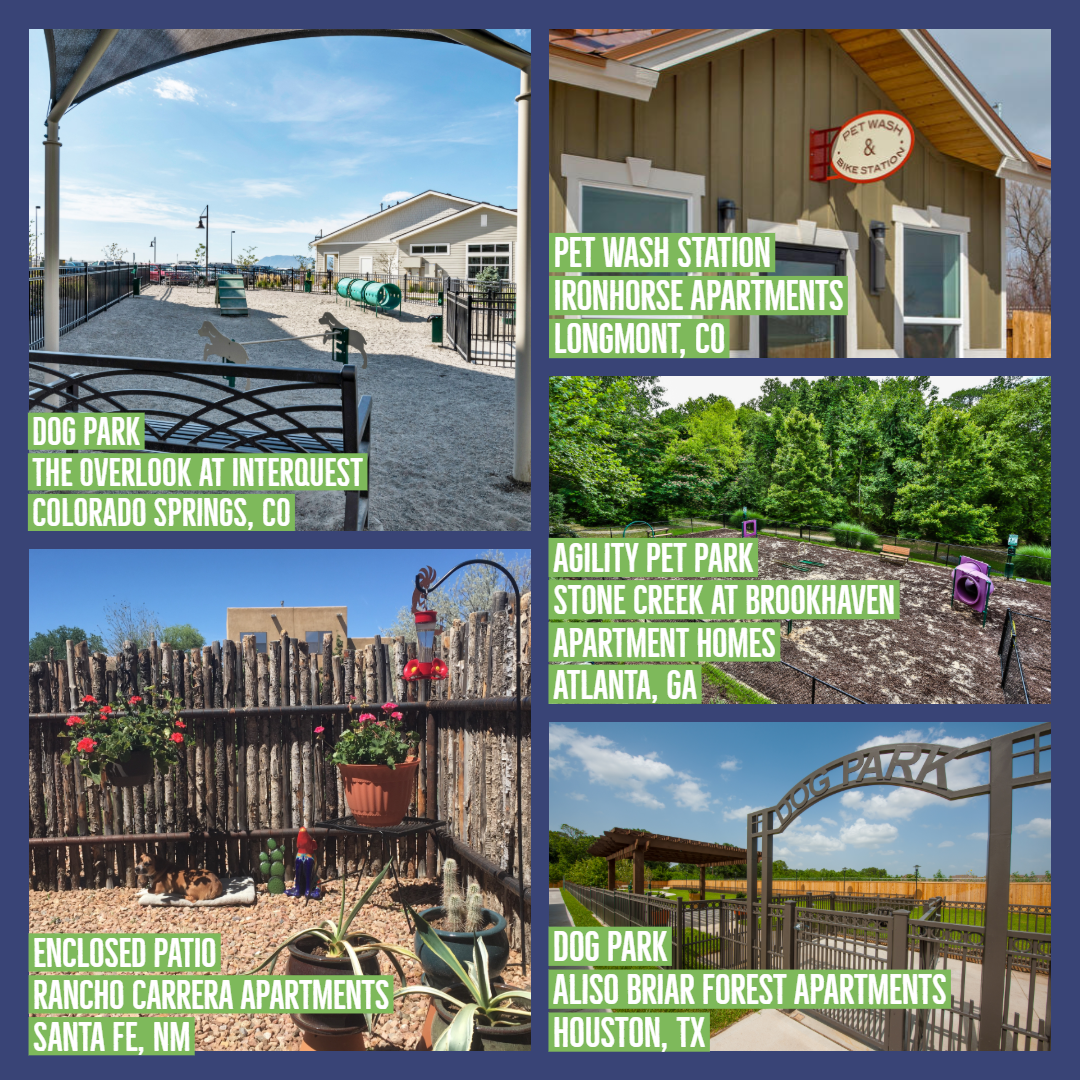 From Left to Right: The Overlook at Interquest (Colorado Springs, CO), Ironhorse Apartments (Longmont, CO), Rancho Carrera Apartments (Santa Fe, NM), Stone Creek at Brookhaven Apartment Homes (Atlanta, GA) and Aliso Briar Forest Apartments (Houston, TX)
About NALS Apartment Homes
Headquartered in Santa Barbara, NALS Apartment Homes is a fully integrated real estate investment firm engaged in the acquisition, ownership, and management of multifamily apartment communities. NALS owns and manages over 15,000 apartment homes throughout the United States, including markets such as Atlanta, Phoenix, Denver, Dallas, Seattle, and Albuquerque. To learn more, please visit www.nals.com.
*All pets must be accompanied on leashes when walking around property grounds. Guests and residents are responsible for immediately and responsibly cleaning up after their animals. Restricted Breeds include: Pit Bull, Staffordshire Bull Terrier (American or English), Rottweiler, Doberman Pinscher, Chow, German Shepherd, Mastiff (Bull or Cane Corsos), Malamute, Husky, Presa Canario, American Bull Dog, Great Dane, Akita, Wolf Hybrid, and any hybrids, combinations, or mixes of the above.