Santa Barbara, CA— Communities across the NALS Apartment Homes' portfolio recently celebrated Maintenance Appreciation Week, an annual event to honor the dedicated maintenance teams at each property. Although they often work behind-the-scenes, the maintenance team's work is crucial in cultivating a sense of pride and happiness at each NALS community. They prepare homes for move-in and also maintain current resident homes and common areas. This year's theme, NALS Royalty, offered on-site more than enough creative ideas to treat their maintenance teams like the true Kings and Queens they are.
Maintenance teams enjoyed royal feasts and regal gifts presented by their on-site teams throughout the week. Everyone also received a NALS "chalice"; an insulated water bottle, to royally celebrate the occasion. Some maintenance team members were even knighted and crowned.
The Park at Mill Plain Apartment Homes honored each of their maintenance team members with fitting titles such as Jon, King of Fixing Things; Jen, Queen of Clean, etc. From royal photobooths at Versante Apartment Homes to the Game of Thrones' Iron Throne making it to Ladera Vista Apartments, NALS communities used their creativity in organizing activities to give maintenance teams a much-needed break! Eight NALS New Mexico properties located in Albuquerque and Santa Fe hosted a joint celebration complete with decadent treats, a bouncy house castle, a dragon piñata, and many more fun festivities! Residents were also encouraged to participate by visiting the leasing office to write a quick thank-you note and to say hello if they see team members around the community. Del Rio Apartments creatively asked residents to write notes to the maintenance team on scrolls to continue with the royal theme!
Check out just a few highlights of NALS Maintenance Appreciation Week below and explore the hashtag #NALSRoyalty on social media for even more pictures and videos of the week's events!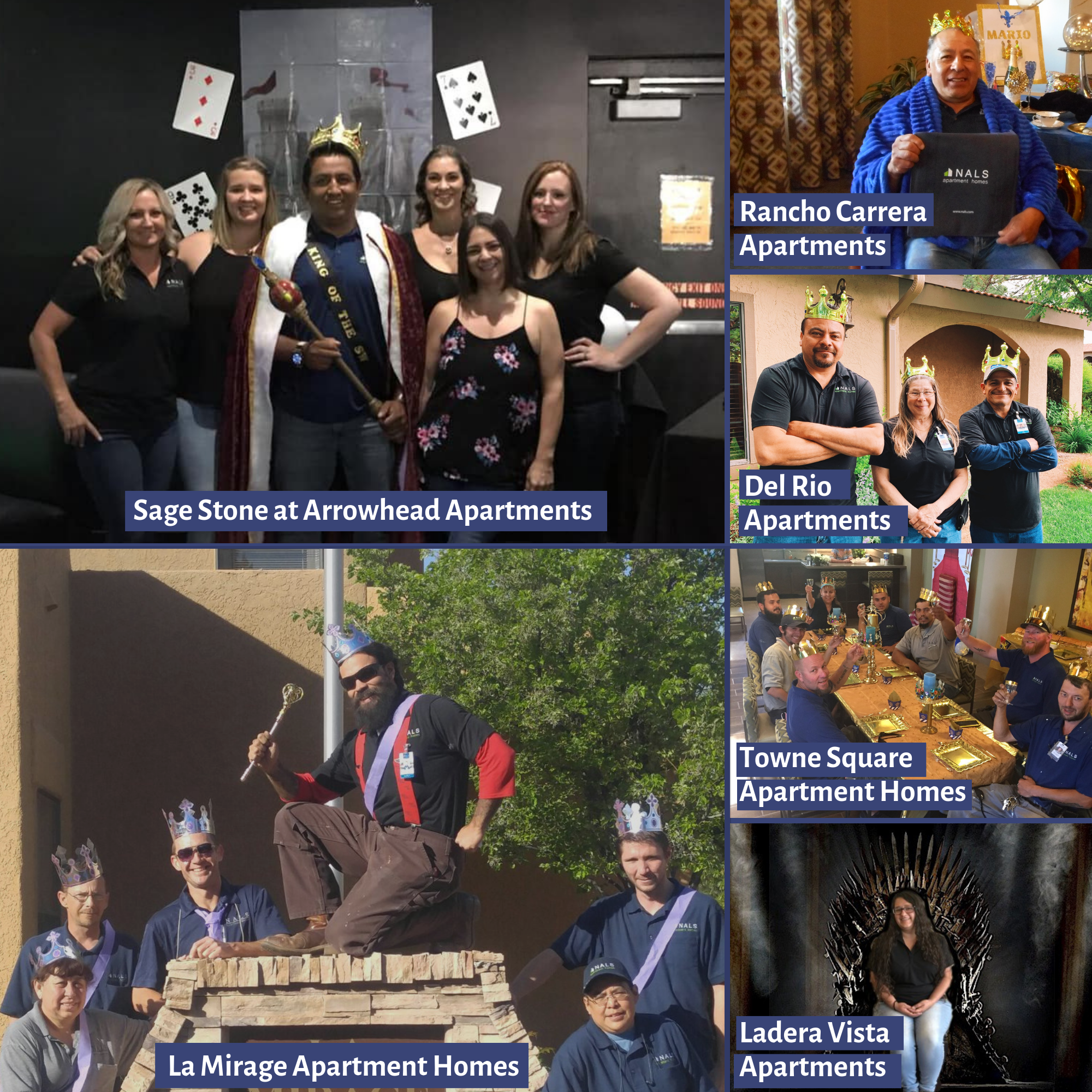 From Left to Right: Sage Stone at Arrowhead Apartments, Rancho Carrera Apartments, Del Rio Apartments, La Mirage Apartment Homes, Town Square Apartment Homes, and Ladera Vista Apartments
About NALS Apartment Homes
Headquartered in Santa Barbara, NALS Apartment Homes is a fully integrated real estate investment firm engaged in the acquisition, ownership, and management of multifamily apartment communities. NALS owns and manages over 15,000 apartment homes throughout the United States, including markets such as Atlanta, Phoenix, Denver, Dallas, Seattle, and Albuquerque. To learn more, please visit www.nals.com.